Inspirational. Heartfelt. Passionate. Giving. Caring. Compassionate. Selfless.
These are words that I use to describe Violet and her story, which I was fortunate to hear on a rainy afternoon, over coffee and donuts at King's Donut Shop off Rainier. Violet, Healthy Food Access Team member, seemingly overnight, became one of Got Green's most vocal emerging leaders.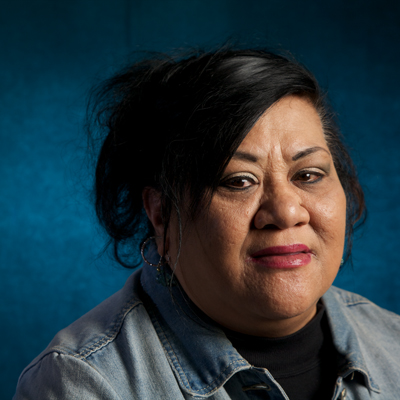 "It changed everything, that survey. My life did a 180." 
As someone who met Violet during the summer of last year, I can attest to her tremendous growth and contributions to Got Green.   Violet came to Got Green through the Women In the Green Economy Project. She lost her job running gas stations and, like many others, was forced to live with family.
Violet and her son Russell moved from Des Moines to Seattle to rent a room in her sister's house. While shopping at a local grocery store, a Got Green interviewer approached her. Violet remembers, "She said, 'Let me buy you a cup of coffee.' See, that works. She asked me questions about myself and what was important."
At first, Violet wasn't sure what to make of Got Green, but after attending a few meetings, her perceptions began to change. 'I always thought about my family but not my community…I started to think less of myself.'
Within the past year, Violet went from someone who didn't have any public speaking experience, to approaching legislators at the state's capitol. Last year she also empowered 36 women, who had never voted, to participate in the 2012 elections.
Violet not only made an impact on her community by protesting low wages and poor working conditions, but also her family and friends, who questioned why she does this kind of work. She tells me how her niece, who is not known to be very vocal, was involved in a rally at the SeaTac Airport, where she works. With the support of Violet, her niece found the strength to be one of the few workers to vocalize their wish for change.
What's next for Violet? For those that don't know, Violet is an amazing singer. Last year, at the Green-A-Thon event, she and Ben Henry, fellow Got Green member, wowed the crowd, touching the hearts of folks as they prepared to hit the streets of Skyway. After she began organizing, her singing took a backseat, but now she has two songs in the making. "The thing that I can bring into organizing, my singing abilities..that's what I love, love, love doing. I can combine it. I can do both."
Got Green is changing Violet.  Violet is changing Got Green. Violet is Got Green. She IS the voice of her community.
(From: Got Green's Annual Organizing Report; 2012: The Year of Emerging Leaders; By Elaine Agoot)