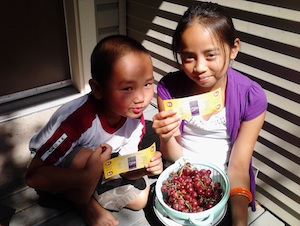 Our Women in Green Food Access Team ended 2012 on a high note. During this eventful year, I saw each team-member grow in our skills and leadership, myself included. One of the goals of the Food Access Team, stated in our Women in the Green Economy: Voices from Southeast Seattle report, was that we wanted to increase healthy food dollars for families of color and low-income families in the South Seattle.
Looking back at last year, we certainly strived for that goal. Together with community partners, we helped save the Farmer's Market Nutrition Program (FMNP) bringing the voices of South end families to our lawmakers at the Capitol; we spoke with Skyway residents highlighting the Food Desert issue to attract a new grocery store there; and lastly through our organizing and work lifting up the voices of the community we were instrumental in Seattle's first ever Fresh Bucks pilot program.
Starting in August of 2012, the Fresh Bucks Program allowed EBT users to go to any of the seven neighborhood farmers markets and receive $10 in Fresh Bucks per day for the purchase of fruits and vegetables when making a minimum purchase of $10. Families could access up to $70 of extra "bucks" each week. Not only that, it boosted business for our local farmers and farmers markets, putting dollars back into Washington's local economy. The program was so successful, that it was even extended a few more months.
We had a lot to celebrate in 2012, but now there's 2013! After all, low-income families, families of colors and seniors need to access to healthy and fresh food all year round!
This year, the Women in Green Food Access Team is determined to bring back the Fresh Bucks program by securing it in the City of Seattle's budget. Now we are collecting signed petitions from community members and stories of those who use EBT, so that we can meet with council members and encourage them to make the Fresh Bucks program a permanent program for years to come.
I'm so inspired to be community organizing with this powerful group of woman on this important issue and hope that others join us.
Sign our petition and help us win more healthy food dollars for families and seniors in the South end. If you are an EBT user and/or want to get involved with the Food Access team, contact tammy@gotgreen.org.
–          By Jill Mangaliman, Founding Member of Got Green's Women in the Green Economy Project/Food Access Team