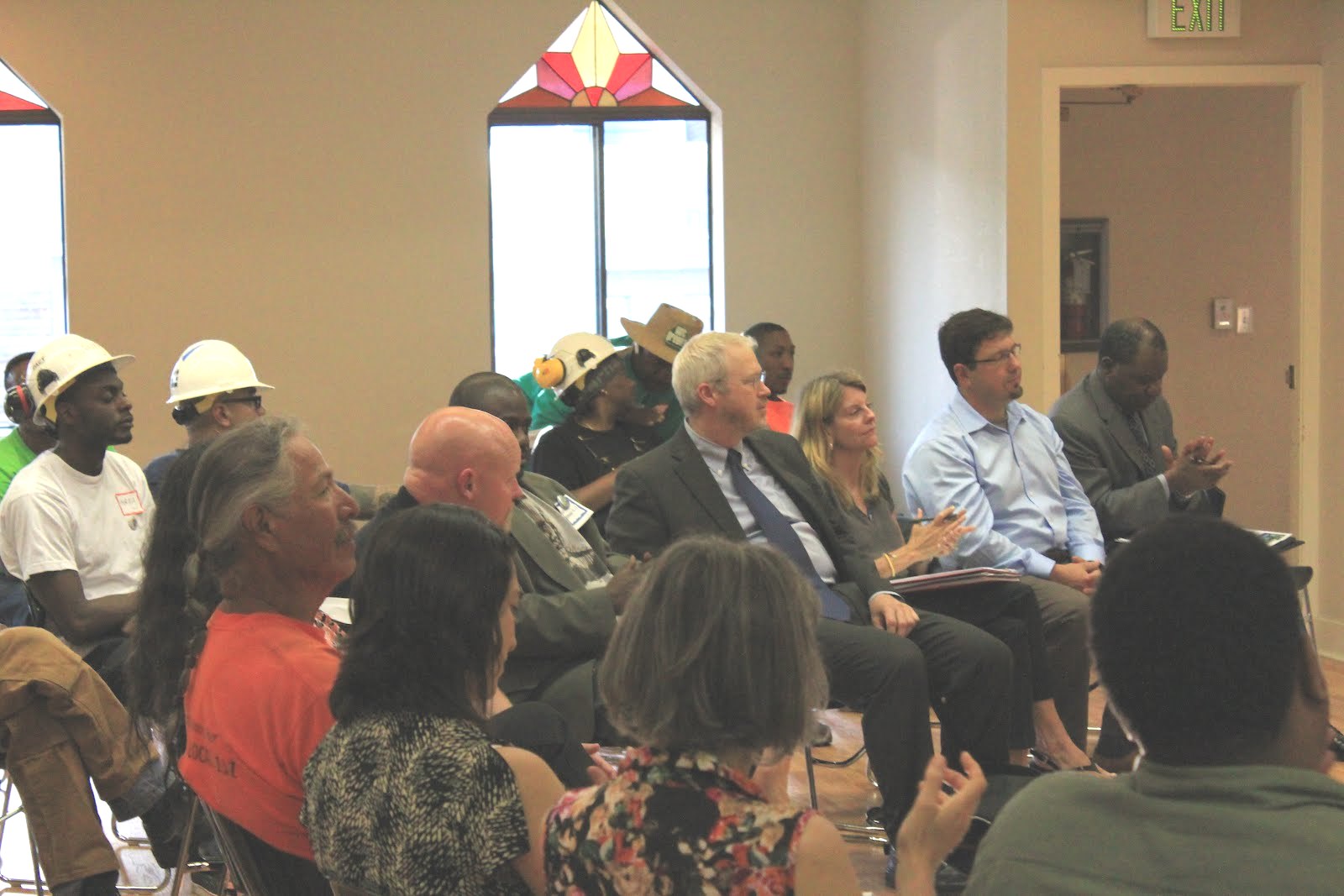 Months of community organizing and negotiations paid off Tuesday night May 15 as a community coalition led by Got Green reached agreement with Mayor Mike McGinn on next steps towards making the city's hiring process for construction jobs more equitable for low income communities of color in our city.
The Construction Jobs Equity Coalition (CJEC), hosted the Mayor and several senior members of his staff at Got Green's Columbia City office Tuesday in a community dialogue session. Coalition members delivered a concise and pointed message to the Mayor: Seattle's struggling communities are in dire need of jobs and opportunities.

When unemployed workers on Got Green's South Seattle Jobs Committee started demanding jobs on the Rainier Beach Community Center/Pool (RBCC) construction site last summer, they uncovered a much larger problem… Not only did the contract signed to build the new RBCC lack any guarantee of jobs for local residents; but the City of Seattle's contracting department had no language in any of their public works contracts to employ or train local, low income workers of color or women on public works jobs.
In the session with the Mayor, CJEC prioritized the need for a city-wide targeted local hiring ordinance (law) to permanently create these opportunities.
Having folks unemployed while infrastructure is being built makes people feel that they are being ignored, that they are not considered a part of any community," Andra Kranzler, of Columbia Legal Services, told the Mayor at the meeting. "Our local construction industry has an institutional history of racism and bias against people of color, women and anyone who brings difference to the industry. We need a long-term, social justice-driven policy that impacts the whole city."
Kranzler then challenged the Mayor. "What you do, in this moment, will have a ripple effect across the nation," she said.
Mayor McGinn responded by referencing the success of his "Inclusion Plan" to expand DBE (disadvantaged business enterprises) participation on City contracts. "Can we do this with the local hire issue? I want the answer to be 'yes,'" he said.
The Mayor then connected CJEC's principles with one of his own, saying he wants to be able to look back and say, "We successfully increased local hires on City construction projects, so we can say we increased shared prosperity." "Shared Prosperity," and "Racial and Social Justice" are two of McGinn's five principles for leadership as Mayor.
At the meeting, more than 50 community members, partners, and other key leaders presented CJEC's five guiding principles to Mayor McGinn:
Principle #1 – Any city jobs program should be focused on outcomes, not goals.
CJEC members explained that while good intentions are nice, communities deserve results. "It sounds good that contractors have to make 100 percent of new hires (out of the community)," said Michael Woo, Got Green's Director. "But if the contractor decides they don't want to make any new hires, then 100 percent of nothing is still nothing."
Principle #2 – Solutions need to work for community and labor.
Principle #3 – Community needs to be at the table with ongoing voice for policy development and enforcement.
Principle #4 – Jobs programs must have the resources needed for success (not be cost neutral).
Principle #5 – The City must create a standing policy (ordinance) that will last beyond an elected official's term.
Joined by large contingents of Got Green members, unemployed workers, and students in Seattle Vocational Institute's (SVI) Pre-Apprenticeship Construction Training (PACT) program, representatives from 14 CJEC member groups delivered testimony around the issue. CJEC made three "asks" of the Mayor to guarantee that workers of color and women workers get hired on the next big city-funded construction project – the next phase of road work to correct the "Mercer Mess." The Mayor said "YES" to all of the CJEC asks. Now is time for the labor unions and communities of color to come together to make a targeted, local hiring agreement work!
Visit our PARTNERS page to see the list of Construction Jobs Equity Coalition members and link to their sites!
by Tori Loe and Ben Henry