A Message from the Got Green Board
Dear Got Green Family, Friends, and Supporters,
The struggle we are all engaged in more resembles a relay than a sprint. We win battles and achieve benchmarks along the way, but to attain a more equitable and just world, we need active grassroots organizations with stable leadership for this long journey. In that spirit, we are excited to announce the official 'baton passing' of leadership at Got Green, from Michael Woo to Jill Mangaliman.
As of January 1st Jill became Got Green's Executive Director. This planned transition followed Michael Woo's 2012 announcement to Got Green leaders that he wanted the organization to put in place a two-year long transition plan leading to his reduced role and eventual retirement. The hand off was planned and executed in a very deliberate and thoughtful way. Jill's relationship with Got Green started in 2009 as a member of the organization's early Weatherization Training Programs. Michael Woo and others quickly recognized Jill's natural leadership abilities and how peers often turned to them for advice.
With experience as a canvasser, lobbyist, community organizer, and journalist Jill was actively sought after by many groups. And as a queer woman of color committed to racial and environmental justice, Jill was the perfect choice to lead our organization.
With eight other volunteer leaders, Jill helped form Got Green's first Board of Directors (2011-2013) and was a member of its Executive Team. In early 2013 Jill joined the staff as lead organizer to begin their transition into leading Got Green. For the past six months, Jill has taken over responsibility for fund development, budgeting, and media relations. In December, Jill led planning and facilitation of our Board and Activist Leadership Retreat.
Got Green will continue to be a grassroots organization fighting to level the playing field among low income communities and communities of color for jobs and meaningful participation in the green economy emerging out of the Great Recession. Michael will remain on staff as Got Green continues to lead efforts to see Seattle's Local Hire Ordinance through implementation. We also look forward to the development of the Young Workers Project and continuation of great work done by Women in Green.
PLEASE join us on Wednesday, February 12th from 4 to 7pm; Got Green is hosting a "Passing the Torch Open House". Invite your family and friends to come congratulate Jill, enjoy light refreshments, and get a tour of our "expanded & modest" new office space!!!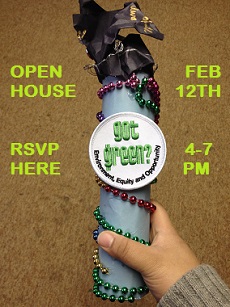 Wednesday, February 12, 4P-7P
3518 S. Edmunds St (Southside Commons)
Seattle, WA 98118