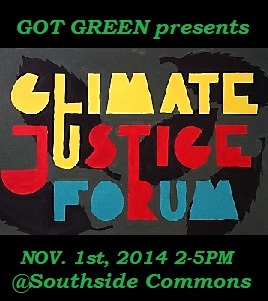 Got Green's Young Leaders in the Green Movement team up with the City of Seattle Office of Sustainability and Environment to learn together about the impacts of climate change to our community in SE Seattle and what we can do about it.
Save the Date!
SE SEATTLE CLIMATE JUSTICE FORUM
Communities of Color on How Climate Change Impacts Us
Saturday, November 1st at Southside Commons, 2-5PM
Spanish Translation, Free Food, and Children's Activities available
Media and Cultural Performances
Stories and Action Steps!!
REGISTER FOR CLIMATE JUSTICE FORUM
 If your organization is interested in sponsoring and/or tabling, please contact Jill@gotgreen.org