"Our power is greatest when the debate about jobs is happening in the public eye." – Michael Woo, Organizer and Got Green Director
Wielding signs that read, "What, no local hire?", "If you work here, hire here" and "Do the right thing, hire locally," members of Got Green's South Seattle Jobs Committee picketed the Rainier Beach Community Center last January to call attention to a much larger problem in Seattle. Despite publicity about equity in contracting, the City of Seattle's contracts had no provisions to employ or train local, residents on public works jobs.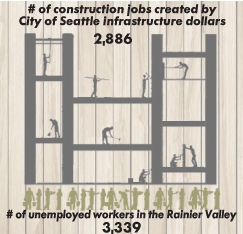 In response, the grassroots members of the South Seattle Jobs Committee took to the streets, picketing job sites and collecting petitions, while Got Green's Director Michael Woo began to organize a new formation – the Construction Jobs Equity Coalition (CJEC).
Comprised of more than 20 agencies and organizations representing Southeast Seattle communities of color, CJEC studied how other U.S. cities address the issue of local hiring on public works projects. They found precedent in San Francisco and Cleveland, where community organizing led city leaders to adopt targeted local hire ordinances to ensure that local infrastructure dollars result in local jobs.
During the April Rainier Beach Town Hall meeting a dozen members of the South Seattle Jobs Committee presented Seattle Mayor Mike McGinn with 250 petition signatures calling for local hiring on the Rainier Beach Community Center. CJEC then invited the mayor to the 'hood' to discuss the issue.
On May 15, 2012 Mayor McGinn and staff in the City's contracting department met with a crowd of 50 CJEC members, Got Greeners and students in SVI's Pre Apprenticeship Construction Trades training class. In response to all of Got Green's and CJEC's demands for equitable hiring and a voice in the process, the Mayor answered "yes." 
In response to CJEC's demands, the City set a table for CJEC, building trades union leaders, and minority contractors to negotiate over jobs on the Elliot Bay Seawall. Got Green grassroots leader and unemployed worker Vernon Hill served as a member of the 3-person community negotiating team. Unfortunately, CJEC's high hopes were quickly stifled as the city dictated the size and composition of the community seats at the bargaining table and imposed a set of "ground rules" that included a gag order on discussing the content of negotiations with our community.
 "Our take away from the Seawall negotiations was that our community is strongest when we can have the debate about jobs out in the open, in a public arena, not behind closed doors," said veteran organizer Michael Woo. "From that point forward Got Green held fast to the notion that a city-wide ordinance for Targeted Local Hire was the only way to go."
Got Green and our South Seattle Jobs Committee regrouped in the fall to begin planning the 2013 Targeted Local Hire campaign. "We were concerned that our community wouldn't know the meaning of Targeted Local Hire," said Jobs Committee member John Jones. "We knew we had to break down the concept so our communities would know this was about them."
In November and December more than 20 Southeast Seattle residents and other workers of color attended Got Green Speakers' Bureau trainings to be able to educate their communities and build a base of folks ready to take action. They spoke to high school students, re-entry program participants, job training participants, and faith-based organizations. And wherever they spoke, they collected petitions for Targeted Local Hire.
"We have spent the past year building our coalition, as well as our grassroots leadership. I believe that members of our community are ready to go out and talk about the issue of unemployment and present targeted local hire as a solution," said Michael. "I've spent the past 40 years in this fight for equity and opportunity in the construction industry. Project by project negotiations for jobs are both time consuming and often don't yield results. A Targeted Local Hire ordinance would offer a broader, sweeping solution. It's a solution I, and many in my community, have been waiting for.  The time is NOW!" –
by Tori Loe & Kristyn Joy
Tori Loe, Got Green Board Member, is a member of the Coalition of Anti-Racist Whites, a graduate of the UW School of Social Work and an organizer with SEIU Local 925.
Kristyn Joy is Got Green's Operations Director. She has worked "behind the scenes" for racial and economic justice through community organizing since 1988.