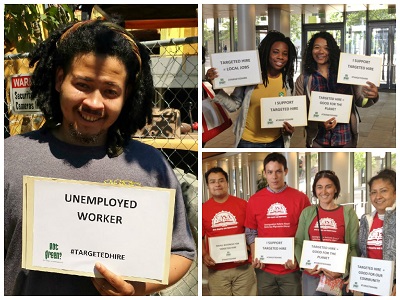 "Two months after the stakeholder process concluded, we are still waiting for the recommendations on Targeted Hiring to be released," said Columbia Legal Services attorney Andra Kranzler, "We entered into the process last October in good faith and coalesced with the building trades unions to forge agreement with the contractors. It's high time Mayor Murray's office released the recommendations so unemployed workers can start accessing living wage construction jobs. We've waited long enough…"
A recent study commissioned by the Seattle City Council showed that only 6 percent of all workers on Seattle City-funded construction projects were Seattle residents, while a whopping 70 percent commuted from outside King County to city job sites.
Green's South Seattle Jobs Committee has been organizing for three years to turn public construction dollars into living wage, local jobs and apprenticeship training for people of color, single moms, and unemployed workers. When the Seattle City Council passed a unanimous resolution last September to investigate targeted hiring strategies to provide good jobs to marginalized workers, Got Green celebrated.
Almost a year later, the rubber meets the road. Will Mayor Murray and the City Council take the lead from communities of color, small businesses and building trades unions and get behind a strong city ordinance requiring targeted hiring of workers from low-income communities of color on publicly funded job sites? Our City cannot bend to pressure from big business contractors who reap the benefits of our local tax dollars while importing a workforce from outside our region.
"Seattle prides itself as a leader in the fight to halt climate change," said Sierra Club organizer Robin Everett, "We can't lose sight of the fact that a Targeted Hiring ordinance will provide opportunity to workers who live close to job sites and will use public transit to get to work. This is not just an equity strategy; it's also an environmental strategy."
Passing a Targeted Hiring Ordinance before City Council enters into the annual budget process is a top priority for Got Green and the 40 partner organizations in the Targeted Local Hiring Coalition. To meet this goal Council will need to introduce the ordinance on August 7th.
"San Francisco passed its Targeted Hiring law in 2011 and all indicators show that it's working. Seattle needs to stop dragging its feet and follow suit. Every month we delay is another month in which workers from economically distressed neighborhoods can't pay the rent or put healthy food on the table," said Got Green founder Michael Woo. "The time for Targeted Hiring is now!"